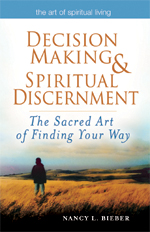 Get your copy of Decision Making and Spiritual Discernment at any of these sources:
Your review of the book on Amazon and other popular sites helps to let others know of this valuable resource for practical spiritual practice.
For a bulk order, call SkyLight Paths Publishing at (800) 962-4544 (8:30-5:30 ET M-F)  or Download this Order Form (PDF).
You may also purchase a copy of Nancy's Pendle Hill Pamphlet, Communion for a Quaker here at the Pendle Hill Bookstore.