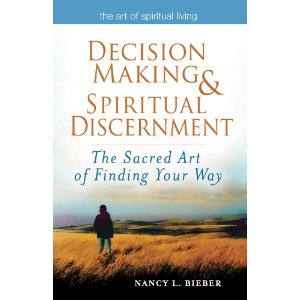 Are you facing important decisions?
Trying to balance everything that pulls on your daily life?
Searching for ways to include God's wisdom in your decision making and life shaping?

Nancy Bieber is a teacher, psychologist, retreat leader, spiritual director and Quaker, with over 30 years of experience in guiding individuals and groups.
Her book, Decision Making and Spiritual Discernment: the Sacred Art of Finding Your Way, released in October 2010, by SkyLight Paths Publishing, draws from these experiences.
Using stories, practical exercises and insightful teachings, she describes how we can make wise decisions and discern our way forward.
Nancy currently teaches at Oasis Ministries, an ecumenical spiritual enrichment organization, where she teaches spiritual direction and guides classes on Contemplative Living:  A Spirituality for Daily Life. She also teaches on the practice of prayer at Lancaster Theological Seminary.  Nancy regularly leads retreats at Pendle Hill the Quaker retreat center, and has traveled around the country speaking and leading workshops.
Here you can learn more about the book, about Nancy and her work.  You can also contact her about retreats or speaking engagements.  Welcome!